Day Tours
Kaieteur National Park
Visiting Kaieteur National Park is definitely an experience of a lifetime. You will marvel at magnificent Kaieteur, the largest single drop Falls in the world at 741 feet. Enjoy the natural symphony created by the sound of the tumbling water. On the approach to Kaieteur enjoy a frontal aerial view of its grandeur. Have your cameras at the ready throughout this tour as there is lots to see including a unique variety of flora and fauna, and hopefully a glimpse of the famous Cock of the Rock. Snacks & drinks are included in this guided tour.
US $220 per person
Kaieteur and Orinduik Falls
This combination package includes a tour of Kaieteur and Orinduik Falls . This package is all inclusive with snacks and beverages. Orinduik Falls lies on the Ireng River which borders Brazil. The oxygenated water tumbles over steps and terraces of jasper providing the perfect therapeutic massage from its cascading water. Bring your swimming gear and sun block.
US $270 per person
Kaieteur and Baganara Island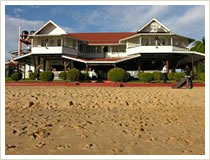 This combo allows you to, not only to have a breathtaking experience at Kaieteur, but also to relax and lunch at a peaceful island resort. Baganara is the place to put your feet up, and enjoy the ambiance. Travel in comfort and style in our Grand Caravan with the latest in avionics and technical equipment.
US $245 per person
Baganara Island
Enjoy the beauty of the Essequibo river. With a one hour bus ride along the coast and a jet boat ride on the great river, there is so much to see. Upon arrival, you will come to find a place of relaxation and peace at the island resort. Baganara, which is one out of 365 islands located on the Essequibo, is the place to put your feet up, and enjoy the view. Activities include canoeing, fishing, water skiing, kayaking, volleyball, table tennis, pools, riding wave runners, banana boats, pedal boats or simply sunbathing and swimming. Also enjoy nature by doing a jungle walk.
US $95 per person (By boat, min 18 persons)
US $120 per person (By air, min 13 persons)
Georgetown Heritage City Tour and Shopping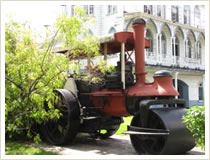 Enjoy the rich history, diverse culture, magnificent architecture, and shopping in the capital of Georgetown. Our jewellery stores are famous for their fabulous gold creations. The City of Georgetown received official city status in 1842 during the reign of Queen Victoria. The Heritage City Tour includes the Umana Yana, an example of Indigenous architecture, the African Liberation Monument, St. Georges Cathedral, which was completed in 1899, The Public Buildings the seat of Parliament ,the Victoria Law Courts , the National Museum of Guyana, Castellani House our National Art Gallery, City Hall, the Stabroek Market and the Walther Roth Museum among others. At the Walter Roth Museum be sure to ask to see the pot of bones and hear the story of Kanaima , and also ask to view the 10000 years old bones of the 20 foot sloth.
US $30 per person
Aerial Coastal Tours
From Ogle to Eddie Grant's island home on the Essequibo River.
US $50 per person
From Ogle to The Berbice River Bridge.
US $50 per person